Capabilities
Over the last 12 years as a product marketing leader, I've taken products from cradle to scale at early-stage startups, scale-ups, and established tech companies. Founders, heads of marketing, and heads of sales count on me when they need strategic thought partnership and hands-on execution.
Companies that have trusted me
Whether I'm guiding a cross-functional team or acting as the sole getter-done of things, I take a very collaborative approach, ensuring we're aligned on what success looks like, collecting feedback early and often, and communicating every step of the way.
Key questions I can help answer: All 6 components of a marketing plan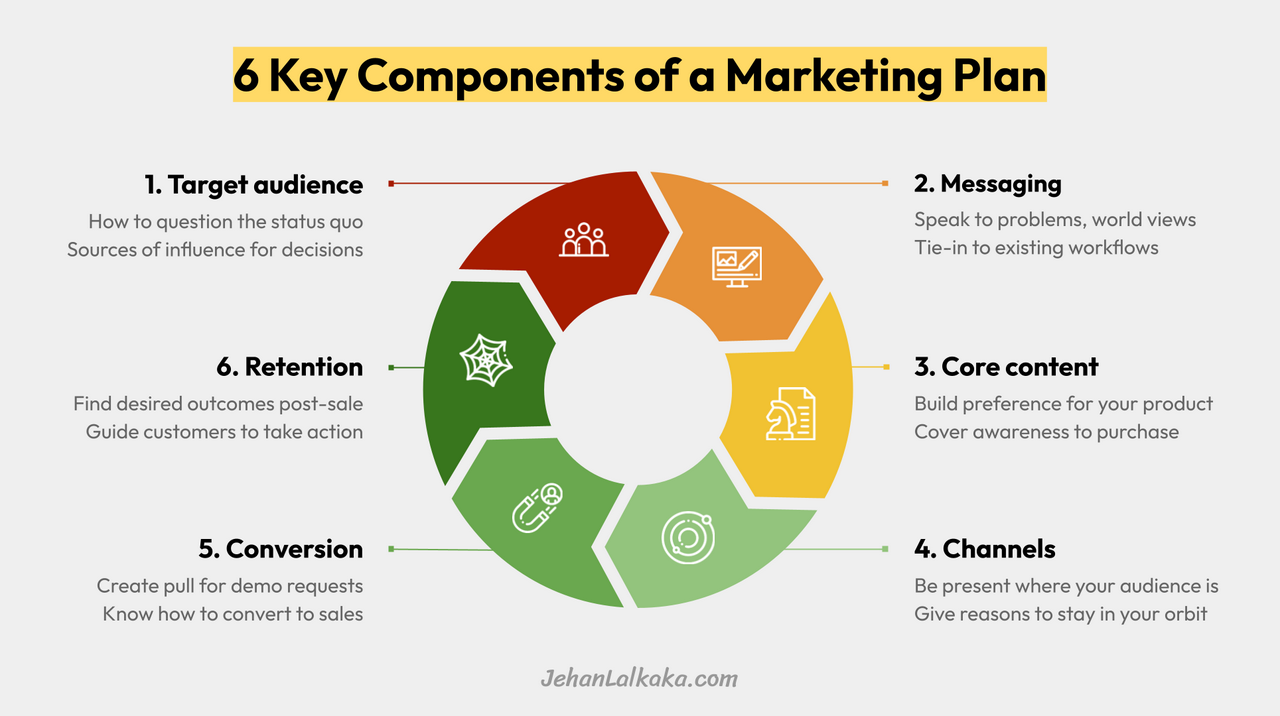 1. Target audience
How can you better define your target audience?
What are their pains, priorities, and desired outcomes?
2. Positioning and messaging
How can you speak to your audience's problems and worldview?
How can you position yourself as a must-have painkiller vs. an optional vitamin?
How can you reduce risk and friction around adopting your product?
3. Core content
Do you know how to build specific interest in your product vs. any other competitor?
Do you have a content strategy that can hook unaware buyers and guide them along the purchase journey?
4. Channels
Do you know how to enter your audience's constellation of influencers and information sources?
Does your audience have reasons to stay in your orbit?
5. Conversion
Do you know how to create pull for demo requests?
Do you know how to convert demos into sales?
6. Retention
Do you know how to define your customer's desired outcome(s) after the sale?
Have you created the tools and guidance your customers need to successfully onboard and take action?
How I can help plan and execute a scalable marketing plan
1. Research: Finding strong answers to the right questions
Customer research (surveys/interviews)
Win/loss/churn interviews
Product-market fit interviews
Messaging and positioning market feedback
Competitor research
Listening to and joining sales calls
Developing a customer advisory board
Developing buyer personas
Product / user story research
Researching / sizing new segments and markets
2. Strategy: Turning insights into actionable, repeatable growth plans
Campaign planning and messaging
Marketing funnel analysis
Marketing budget estimation
Product launch planning
Sales enablement planning
Social media planning
Content planning
Customer marketing planning
Creating team alignment across Marketing, Sales, and Product
Assessing talent needs
3. Execution: Getting things done. Fast.
Company-level positioning and messaging
Product positioning and messaging
Use case messaging
Industry messaging
Core content development
Thought leadership development
Demand gen content
SME-based whitepapers
Web and email copywriting
SEO articles
Customer stories / case studies
First call decks
Pitch decks
Product pitch decks
Product 1-pagers
Sales enablement assets
Competitive battle cards
You vs. 'Competitor X' sales enablement
ROI/business case development
Analyst relations
Interviewing candidates